Pats Propaganda
Sep 16
Patriots Offensive Line Height/Weight Comparison: 2012/13 vs. 2014
Say what we will about the new-look offensive line, but when laid out like this it's clear how much bigger the Pats interior is now. We're talking a combined five inches and 44 pounds more than the starting OL and swing tackle backup of the last two seasons.
I wonder if this relates back to the struggles we've seen in recent playoff losses where the interior OL struggles with guys like Justin Tuck and Terrence Knighton. Will this increase in size make a difference? 
Two games into the season and it would seem like they are committed to trying to make it work.
Patriots vs. Vikings All 22 Thoughts: Defense Edition
Thank Hoodie the NFL puts All-22 film up now, it's really so much better to help understand what kind of coverages and route combinations are being run. And the end zone cam is perfect for seeing gap alignment.
Early on the Pats rotated through odd and even fronts, running primarily Cover 1 Robber, with Chung in the box. Essentially the Pats traded Steve Gregory for Chung. Chung might get pulled off the field in coverage packages, but he's definitely a better presence for the "Robber" spot that the Pats play a lot of. So far his weaknesses have been well-hidden.
One Chandler Jones' 2nd quarter sack it was a great example of team defense. Jones got an initial hand on Cassel, though he probably had enough time to dump it off had the coverage not been perfect. Siliga came through on a stunt and destroyed the pocket. That's when Jones finished him off.
On Revis' interception he did the proverbial "ran the route better than the receiver". His perfect outside leverage prevented the receiver from breaking out of his cut, from there Revis just sprinted right to where the ball was delivered and there was nothing Jennings could do.
Remarkable that even without Browner and Dennard the defense was still able to play a lot of press man. They slipped in some off-man as well, but Press Cover 1 Robber was the coverage of choice.
On third-and-three in the second quarter we saw some zone coverage with two deep, Mayo in the deep middle, four underneath defenders waiting to pounce on the underneath pass. It worked perfectly.
For all the talk of Hightower's improved pass rush, dropping him into short zones eliminated the underneath passes that gashed the defense on the first drive. Hightower moves better in space than he's gotten credit for.
Seemed like Ebner was the dime linebacker while Wilson was just the base strong safety to give Chung a breather. Interesting how they're rotating a deep group of safeties.
Such a smooth Revis-esque play by Logan Ryan to undercut Patterson's route on his interception. Cassel shouldn't have tried that throw but there wasn't anywhere else to go with it. That's one thing sticking out with the All-22 — just how good the coverage is across the board.
Pats sent 6 rushers on Dont'a Hightower's third quarter sack from their dime package. Man-to-man coverage was perfect behind it.
Easley was used entirely inside as a pass rusher, just like he should be. He showed good explosion and violence early on but I think he seemed to run out of gas in the fourth quarter. Understandable considering how he saw no game time in the preseason.
Kyle Arrington's blitz from the slot was well-timed. I thought the Pats did some experimentation being a little more aggresive. PFF had them blitzing on 10 of 44 snaps which is on the high end for BB.
Three GIFs that defined Patriots win over Vikings
Sticking with the positive this week with three plays that really stood out to me as game-defining. Could've put any number of the penalties in GIF form but that would feel like a waste, even though those really defined the game.
You'll also notice I didn't use the Chandler Jones field goal block because that one has already been GIFfed and everyone is well aware of what a huge play that was.
First, we start with Devin McCourty's interception, a play that might been the unofficial start of the Patriots actually playing football this season. Things didn't look good on the first drive for either side of the ball. Then, after a nice punt from Ryan Allen, McCourty makes this great play on the ball.
There were a few throws of Brady's that stood out (and weren't nullified by penalties), but this one was just a much-needed strike. With the Vikes poised to get good field position of a punt, Brady threaded the needle on third-and-14 to pick up the first down en route to taking a 10 point lead. 
No defender has been more impressive for the Pats this season than Dont'a Hightower. Hightower has been used more in a pass rushing role at times and he's delivered with good pressure. He's just so strong he can over power running backs trying to block him, but also get underneath a tackle like he does here. This sack effectively sealed any chance of a comeback from happening.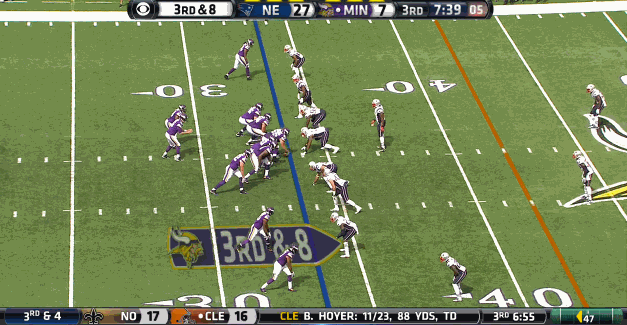 Sub: 45 of 68 (32 nickel, 13 dime) 
Base: 22 of 68 
Heavy/short-yardage: 1 of 68 
2 WR/2 TE/1 RB – 26 of 67 
3 WR/1 TE/1 RB – 21 of 67 
1 WR/2 TE/1 FB/1 RB – 12 of 67 
2 WR/1 TE/1 FB/1 RB – 5 of 67 
3 TE/1 FB/1 RB – 2 of 67 
3 WR/1 FB/1 RB – 1 of 67 
Previous Three GIFs:
"On Stevan Ridley's 16-yard run (5:57 remaining), Stork fired off the ball and created some push in the middle as the defender he was blocking winds up on the ground. His two shotgun snaps were solid. Those were valuable reps for Stork, who looks like he's ready to compete for more playing time." — New England Patriots fourth-quarter review: Week 2 - ESPN Boston
Sep 15
[video]
"Last year, they had 82 penalties all season (69 accepted), the second-lowest total in the league. They had 98 accepted penalties in 2012 (ninth fewest) and 80 in 2011 (fifth fewest). This year, they're on pace for 224 total penalties (192 accepted)." —
New England Patriots Blog - ESPN Boston
Guessing this is a point of emphasis this week?
Pats Posits: Notes on the Patriots-Vikings Rewatch
The New England Patriots bounced back on Sunday against the Minnesota Vikings to even their record at 1-1. It was still an ugly affair — with the Pats getting called for a whopping 15 penalties for 163 yards.
The general NFL sentiment and betting expectations were not favorable to the Patriots after their opening weekend loss, but with big games just around the corner, including a Monday Night Football matchup in Kansas City on the horizon, the Pats look to be coming into form. You can read more on the best NFL news here.
Patriots' defensive snaps: Skinner chips in - New England Patriots Blog - ESPN Boston -
Perhaps one of the most positive signs to come out of this game defensively is that Wilfork only played 39 of 68 snaps. If they can keep this reduced workload for him it should really extend his effectiveness.
[video]