Three GIFs That Defined Patriots win over Raiders
It was (looking like) the best of times and the worst of times after the Patriots squeaker win over the Raiders last Sunday.
On defense there were quite a few different options of plays that defined the game, though one choice was infinitely obvious. Defensively I continue to think things are really coming together and again, defense wins championships. If nothing else I'm ready for a Patriots team that is better on the defensive side of the ball. I mean it's been a decade since the last time that was true.
Offensively, the Pats can't get much going and look like the same unit that lacked the necessary dynamics to truly take them to the next level. Things still look just a step off up and down the offense, but given the level of compete on this team, I expect we'll see them take positive strides forward this coming week.
Here are the three plays that defined the game: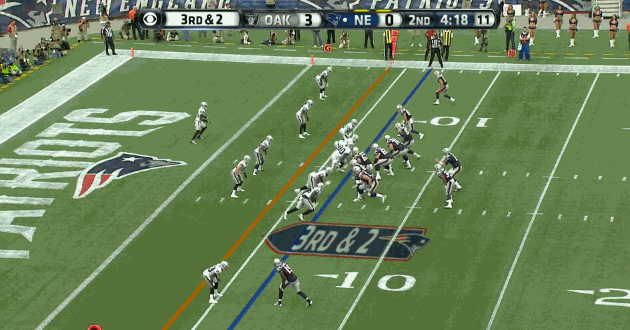 A Gronk TD. Why not? It was just about the only really positive play we saw from the offense, not to mention it saw Gronk beat a double team. That's a positive sign and as Gronk slowly eases into more and more snaps he should become even more of a factor. Three healthy games down, 16 to go!
Possibly my favorite play of the game comes on this 3rd-and-1 in the fourth quarter with the Pats clinging to a four-point lead. I love the number o f hard hits that keep the Raiders from picking up the first down. That kind of swarming defense is just what we need.
Finally, and most obviously, comes Vince Wilfork's interception. I can't say it enough — it's just unreal how Wilfork has come off such a major injury and looks just as good as he was before it. If anything it appears the year off did the rest of Wilfork's body some good. Let's just hope they can keep him this way for the rest of the season.
Offense
3 WR/1 TE/1 RB — 32 of 73 
2 WR/2 TE/1 RB — 30 of 73 
2 WR/1 TE/1 FB/1 RB — 6 of 73 
2 WR/1 TE/2 RB — 2 of 73 
3 WR/1 FB/1 RB — 1 of 73 
3 WR/2 RB — 1 of 73 
3 TE/1 FB/1 RB — 1 of 73 
Defense
Base: 30 of 60 
Sub: 30 of 60 (20 in nickel/10 in dime) 
2 WR/1 TE/1 FB/ 1 RB — base 4-3 
2 WR/2 TE/1 RB — base 4-3 
3 WR/1 TE/1 RB — nickel — Arrington (short yardage); dime (longer yardage) 
1 WR/2 TE/1 FB/1 RB — base 5-2 
3 WR/1 FB/1 RB — base 4-3 and big nickel
Previous Three GIFs: