Three GIFs that defined Patriots win over Vikings
Sticking with the positive this week with three plays that really stood out to me as game-defining. Could've put any number of the penalties in GIF form but that would feel like a waste, even though those really defined the game.
You'll also notice I didn't use the Chandler Jones field goal block because that one has already been GIFfed and everyone is well aware of what a huge play that was.
First, we start with Devin McCourty's interception, a play that might been the unofficial start of the Patriots actually playing football this season. Things didn't look good on the first drive for either side of the ball. Then, after a nice punt from Ryan Allen, McCourty makes this great play on the ball.
There were a few throws of Brady's that stood out (and weren't nullified by penalties), but this one was just a much-needed strike. With the Vikes poised to get good field position of a punt, Brady threaded the needle on third-and-14 to pick up the first down en route to taking a 10 point lead. 
No defender has been more impressive for the Pats this season than Dont'a Hightower. Hightower has been used more in a pass rushing role at times and he's delivered with good pressure. He's just so strong he can over power running backs trying to block him, but also get underneath a tackle like he does here. This sack effectively sealed any chance of a comeback from happening.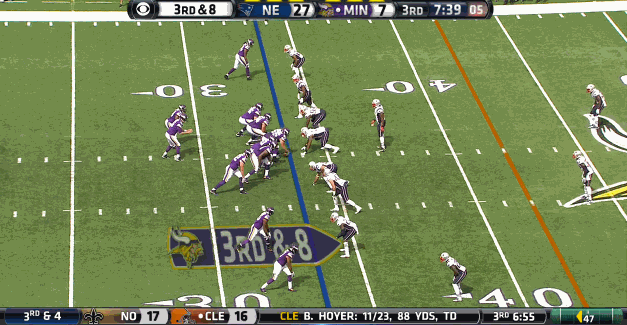 Sub: 45 of 68 (32 nickel, 13 dime) 
Base: 22 of 68 
Heavy/short-yardage: 1 of 68 
2 WR/2 TE/1 RB – 26 of 67 
3 WR/1 TE/1 RB – 21 of 67 
1 WR/2 TE/1 FB/1 RB – 12 of 67 
2 WR/1 TE/1 FB/1 RB – 5 of 67 
3 TE/1 FB/1 RB – 2 of 67 
3 WR/1 FB/1 RB – 1 of 67 
Previous Three GIFs: